Cookie-free Consent
The consentmanager.net CMP offers a new features which allows Cookie-free Consent: In case when the visitor clicks on reject the system will not set any cookies (nor use the local storage) in order to be compliant with the EU Court ruling from 01 Oct 2019 ("Planet49").
How to setup cookie-free consent?
In order to enable the cookie-free consent feature, please login to your account and go to CMPs > Edit and enable Cookie-free consent:

You can also enable the "save my preferences" checkbox. This will show an additional text on the consent layer, allowing visitors to reject the data processing while allowing to store the consent information in a cookie: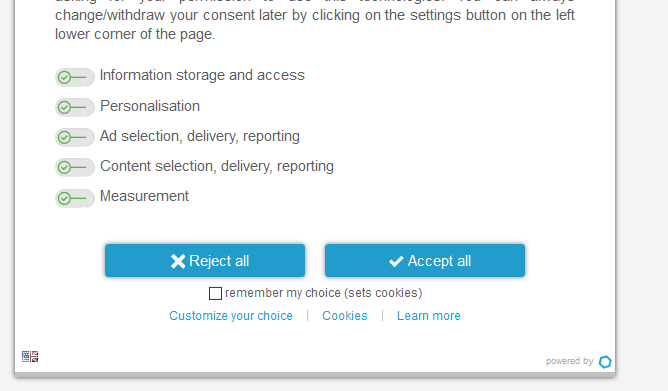 How does it work?
Is Cookie-free consent necessary for GDPR-compliance/ePrivacy-compliance?
Depending on your interpretation of the law and the latest court rulings, it can be necessary to enable this feature.
Please note that you also need to make sure that all other codes on your website can be blocked by our CMP and that your website/server is also not setting cookies if no consent is given.