5. Create your own Design & Texts
This step is optional. We already created some default designs for you that can be used. 
If you want to align the appearance of the CMP to your website, you can create an own design. In order to do this, please login, go to Designs and click on the Add New Design button.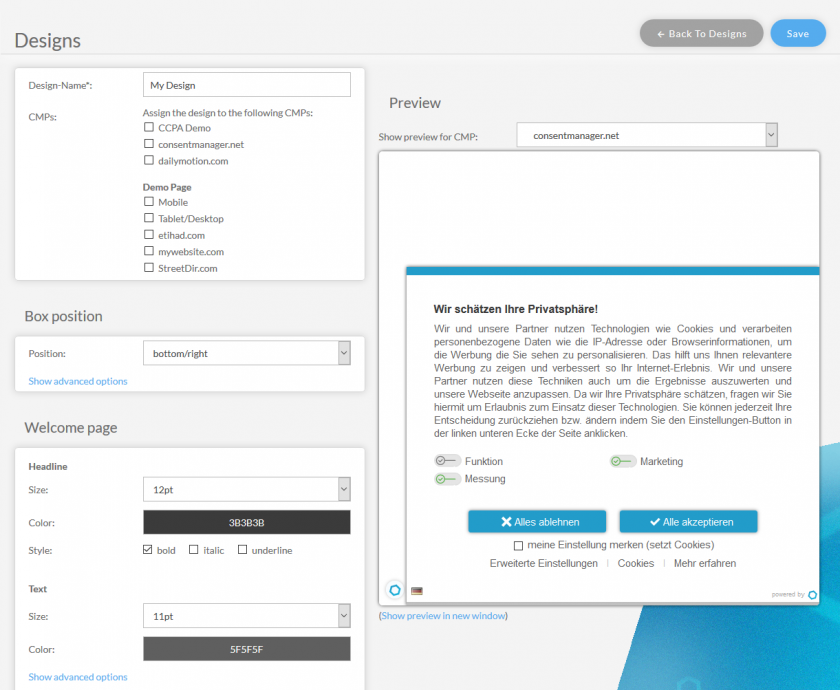 On the left side you will find all the settings in order to change the design. On the right side you will find a preview of how the design will look like.
Note: Make sure you select the new design in CMP > Edit > Designs settings once you created it.

Changing texts
The CMP automatically shows the texts in one of the more than 30 languages that are present in the system. Therefore we created the texts that matches the most cases and should "fit" the legal requirements of most countries and most of our clients.
If you want to add/edit the texts please login to your account and follow these steps:
Go to menu Texts
Choose the design and the language you want to edit the texts for
Change the texts and press the Save button
Note: Leaving a field empty restores the original/default text for this text. If you want an empty field, please insert a space.